Hi I'm so very excited because of donations, I could give my book on EFT for children with cancer, The Dragon with Flames of Love to Mia and Javier. I think their faces, say it all.
Mia is a dynamo. She uses Tapping along with her mother to reduce stress, get rid of a sore tummy and even to fall asleep better.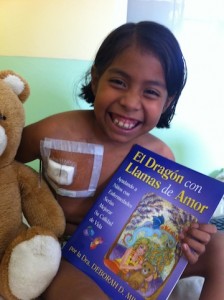 Javier is one of the stars of the book. His story is called "Slow Turtle and Fast Cheetah". May he be healthy for years to come.
Please consider donating so that I can give more books to more children in need. Or donate a book to a child who is in need of emotional support. Click the Big Red Heart on the right of this page to help more children feel empowered.