Hello hello,
Helping kids is a passion of mine. If you didn't already know that from
following my work. It isn't just kids who are sick. It is also kids that are
healthy. Even moreso the "kid" within us. We all need to take care of
that part of us.
Here's a little Tapping Script I did some time ago, but still has great
value.
Tap along for you and the kid inside of you.
https://youtu.be/muIZABViC_U
many blessings, much love and joy
Deborah
Today is one of those days that you know why you do what you do. I went into the hospital and could help Serena as she begins her treatments for cancer. To see her relax and feel calm was worth it all. To know that she now feels hope that she can participate in her healing process makes my heart expand. To see her father feel supported as well is a gift.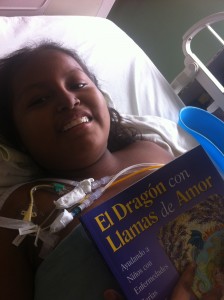 Thanks to Perla Jimenez and Sandra Orosoy for this donation that allowed me to give Serena The Dragon with Flames of Love – Tapping for Kids book.
The holidays are upon us. Not only does it create the desire to give to our loved ones, but also to those who are in dire need over the holidays, like sick children in a hospital.
I see many gifts of toys and candy given to children in the hospital over the holidays. It is a beautiful gesture and the kids love the toys (for a while). Then they go back to getting very little the rest of the year, feeling unsatisfied, or even go back to focusing on their illness.
My proposal is simple. Let's give them something more, something that will last, something that will provide them with emotional relief, something that will empower them to make wiser decisions and even have a vision of the future.
EFT Tapping does that. It helps reduce stress hormones, which in turn helps release fear and trauma. Once calm it is easier to envision one's recovery and move toward it.
Giving the gift of "The Dragon with Flames of Love" is a way to provide relief and emotional support that will last and last.
Be a part of the growing community helping children around the world.
Namaste
Deborah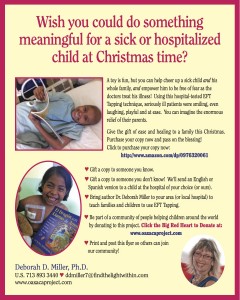 Click here to Give A Gift that Keeps Giving
I've been so blessed as to receive donations in order to give children with cancer their very own copy of The Dragon with Flames of Love.
Jairo said, "When I read the book, I feel tranquil and at peace."
Javier jumped up and down when we got out the book to show other children the image of him in the story, Slow Turtle and Fast Cheetah. He said I love the Cheetah because he makes me feel strong.
Enjoy the pics! Blessings to all who have already donated a book. Blessings to those of you who will donate by clicking the big read heart on the right of this page.
Click here to see all of the photos of the Children with The Dragon with Flames of Love
Find out how our body talks to you, how to listen to it, and Tap along (using EFT) to help your body relax.
Sandra Concar and Peggy Mangan from Surviving the Diagnosis (www.survivingthediagnosis.com) invited me to share about my experiences with EFT and taking care of yourself. We discussed how the body is constantly giving us signals that can help us understand what our body needs. Yet most of us ignore those signals. I shared how we can utilize those signals to help us take better care of our bodies and ourselves.
I led everyone through a Tapping Session about listening to your body's signals.
Come tap along to hear what your body is telling you.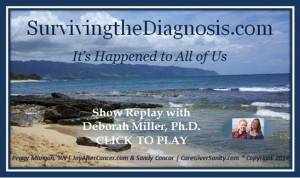 Scroll half way to the bottom of the page to get to the icon that allows you to hear the show.
Click here to watch the interview
Hi I'm so very excited because of donations, I could give my book on EFT for children with cancer, The Dragon with Flames of Love to Mia and Javier. I think their faces, say it all.
Mia is a dynamo. She uses Tapping along with her mother to reduce stress, get rid of a sore tummy and even to fall asleep better.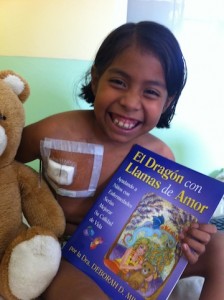 Javier is one of the stars of the book. His story is called "Slow Turtle and Fast Cheetah". May he be healthy for years to come.
Please consider donating so that I can give more books to more children in need. Or donate a book to a child who is in need of emotional support. Click the Big Red Heart on the right of this page to help more children feel empowered.
Gary Williams of The EFT Tapping Hub interviews me about how to tap with the parents of children with serious illness. We discuss in this short click of a longer interview my point of view on how Tapping can help the parents "Before and After a Diagnosis."
Listen in as to why Tapping is a benefit in this difficult time.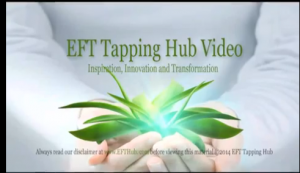 Click here to hear the interview

Click here to hear the interview

Listen to Gene Monterastelli interviewing me about my work with the children with cancer.
There are some lovely "tips" for you.
Click here to hear the interview
Be inspired to help more children around the world be empowered.
Would you like to EMPOWER these two lovely girls?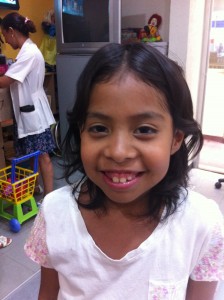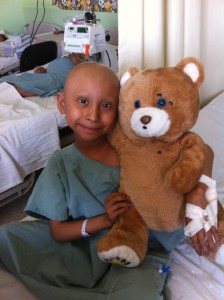 I know I do. How can you do so, you ask? It's simple. Donate either copies
of "The Dragon with Flames of Love" in Spanish for Mia and Marcela, or click
the "donate" button on the right side of the page to donate funds so that
books can be purchased for them and all the children waiting to have their
own copy.
How will "The Dragon with Flames of Love" EMPOWER these children?
* It provides them with a powerful technique "EFT" to manage their emotions, and
create hope and faith that their bodies can heal.
* It is filled with real-life stories that help children with serious illnesses
overcome their fears, encounter ways in which they can communicate with
their bodies, and create images of how they'd like their bodies to self-heal.
* It helps them indirectly by helping their parents release stress so that they
can better support their children.
* It is beautifully illustrated and designed with warm colors and illustrations
that inspire, encourage and motivate them.
EMPOWER a child today, you can be a part of making a child's life better.
Click the image of the book to order.
Support a Child in Need – Get Your Copy of "The Dragon with Flames of Love" Now
Or Donate: