When one is ill it is so easy to feel depressed or lack the energy and enthusiasm to do what is needed to get better. Your body is tired or aches. Your mind is worried or even terrified. Yet, this is exactly the time to be persistent in self-care – both emotionally and physically.
Let me share a real-life story about Gilda. She is an amazing example of why persistence pays off. I'm so extremely proud of her and delighted with her enthusiasm for life even after all that she has experienced.
Gilda's Story
When Gilda was 10 years old she was diagnosed with an osteosarcoma – bone cancer. She was afraid all of the time, even of things that hadn't even happened or wouldn't even happen.
Gilda and I did a lot of Tapping together to alleviate those fears. You can read more about what Tapping is on my website Emotional Freedom Techniques (EFT Tapping)
Gilda even stars in my book, "The Dragon with Flames of Love" in the story "Balloons Balloons Balloons" where we used tapping and the image of balloons to release those fears. Boy, did she release those fears.
Life doesn't have just one fear, so when new fears or challenges came up, we tapped together again. We made tapping fun, playful and easy for her. By making tapping fun, it helped Gilda remember to do the tapping.
As she released the fears she took steps toward choosing to live. She continued her treatments. She challenged herself to walk with her prosthetic leg, an internal titanium post that replaced her own leg bone.
I remember her getting knee high hot pink tennis shoes. She loved them. Even with the hot pink tennis shoes she was afraid to really step forward until we tapped away her fears. Then you should have seen her go. She would walk around so proudly. In fact, she would practically run as she felt the joy of being able to walk again.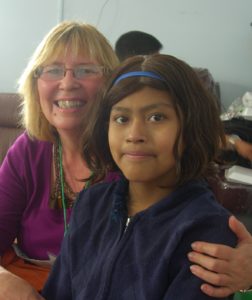 Gilda's Persistence
That prosthetic implant helped her for a couple of years and she thought that she was set until she fell and injured herself. She was 14 at the time. Unfortunately, the cancer came back and she lost her left leg from the hip down. Instead of despairing and giving up, she decided to live. She did Tapping again to release her new fears.
In addition, I taught her how to tap on her own at home. It is an important step in self-care when the person who is ill actually does the emotional release regularly. Gilda became responsible for her emotional state of being that in turn affected her physical being.
When she got overwhelmed and felt she couldn't do the tapping alone, I had her tap while she invited her "Spiritual Healer" (her description of God) to help her. She was tapping for herself, and she didn't feel like she had to do it all alone because her spiritual healer supported her and helped her heal. That helped her listen more carefully to her body's needs while feeling supported and cared for as she took care of herself.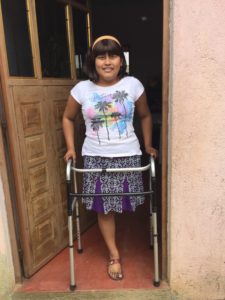 Even after losing her left leg, this spirited young woman was determined to live. She continued to have a positive attitude and the determination to survive. She told me with such conviction that she wants to live, to go to school and to walk again. She did Tapping, persistently.
On Aug 25, 2017, I visited with Gilda in her home. She proudly came walking towards me with her new prosthetic leg that she had received 2 weeks beforehand. She'd waited 1.5 years to receive the prosthetic leg because of lack of funds to purchase it.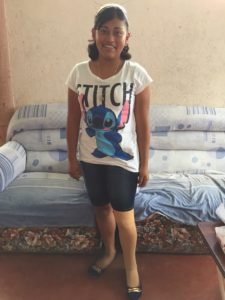 As we talked, she told me she is going to school. She is playing wheelchair basketball 3x a week. She raced in 2 wheelchair races and won 1st and 3rd prize.
Gilda's Goals
She wants to
finish High School.
study architecture.
and build ecological homes.
You can see her enthusiasm for life, her determination and continued desire to live when you look at her. Watch her walk with her new prosthetic leg.
Gilda Inspires Others
Gilda helped another young girl who lost her leg above the knee, who was depressed and didn't want to go out because people would "look" at her. She shared her story of how she was also so afraid, how she used Tapping to release those fears and build up her faith in herself. By sharing her story, this other girl now is going out and feels she cannot worry about how people will look at her as different. What a gift Gilda has given this young woman.
Gilda still uses EFT today. She uses it mostly when she is having "problems." We discussed how she could use tapping daily to help her body release stress in order to help her immune system stay strong. I know she will.
She touches my heart and soul with her inner beauty and determination.
She is a testament to why persistence pays off. I hope she inspires you to be persistent too.
Why Tapping is Good for You?
It helps reduce stress hormones like cortisol, which reduce inflammation in the body and reduce the stress on your immune system.
By having a stronger immune system, your body has improved healing processes.
Tapping helps you reduce the fears, anxieties, and traumas so that you can take the steps needed in the healing process.
It clears out old unhealthy mental and emotional patterns.
Tapping allows you to feel calm, peaceful and open to new possibilities.
Tapping helps you instill new healthy, loving beliefs about yourself and your body.
Need Help with Tapping?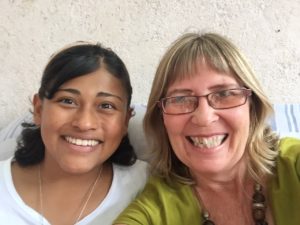 Blessings and love to Gilda!! She is a angel on earth.
I spent some time with Javier, one of the children I supported with Tapping during his years in treatment for cancer. He is now a 2 1/2 year cancer survivor. I'm so proud of him.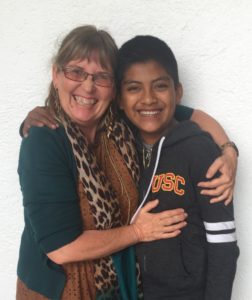 Even though he is doing well, we did more tapping to help him deal with the emotions that are coming up currently in his daily life.  Tapping will help him continue to stay well by managing his emotions. Lowered stress and emotional angst allows one's immune system to stay strong. This is what I desire for Javier – continued joy, peace and health.
I desire that you also have joy, peace and health.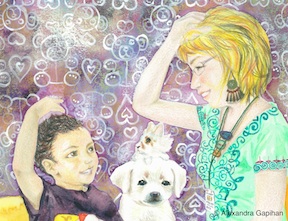 • Would you like to feel comfortable Tapping with children?
• Would you like to help children manage their emotions gracefully and easily?
• Would you like to empower children, including those who are ill or in critical condition?
This interactive online course is designed to help EFT Tapping students and practitioners who want to have the confidence to work with children.
Tapping with children is different than with adults, and very rewarding. Adults think, process, and reflect whereas children feel and experience. Helping a child create a positive focus helps the child (and family members) move through the journey of healing calmly and gracefully and, most importantly, in an empowered way.
Deborah Miller, PhD, author of "The Dragon with Flames of Love: EFT Tapping for Kids" has over 9 years' experience Tapping with hospitalized children in the pediatric cancer ward. She helps them deal with:
• The shock of diagnosis
• Fear of needles, treatments, surgeries, hospitals, doctors and death
• Reducing pain – emotional and physical
• Traumatic experiences
• Expressing their negative emotions
and
• Builds confidence
• Helps the child visualize his desired outcome
• Teaches the child to Tap on her own
• Makes Tapping fun!
What This Course Will Provide:
• A presentation of Deborah's experience
• Demonstrations with volunteers in the group
• Practice in pairs and groups of three
• Discussions of the Tapping Experience, Practical Tips
• Four hours may be applied towards continuing professional development education hours (CPD's)
• Deborah's book, "The Dragon with Flames of Love," containing tapping scripts she has used with hospitalized children and their families, will be available for purchase at a special discount
• 30% of the proceeds will be donated toward the production of Alina Frank and Craig Weiner's documentary film The Science of Tapping
This course will give you the confidence to work with children. What better way to improve humanity than teach our children to embrace their emotions and release their hurts, and to love and respect themselves and others?
Date: Feb 11, 2017
Hours: 11 am – 3 pm Central Time
Location: Online via Zoom
Cost: 197 USD
EFT students and practitioners only
Sign up link: https://deborah-miller.myshopify.com/products/tapping-for-kids-online-interactive-course-with-a-focus-on-children-healthy-ill-and-the-child-within
Hello hello,
Helping kids is a passion of mine. If you didn't already know that from
following my work. It isn't just kids who are sick. It is also kids that are
healthy. Even moreso the "kid" within us. We all need to take care of
that part of us.
Here's a little Tapping Script I did some time ago, but still has great
value.
Tap along for you and the kid inside of you.
https://youtu.be/muIZABViC_U
many blessings, much love and joy
Deborah
Today is one of those days that you know why you do what you do. I went into the hospital and could help Serena as she begins her treatments for cancer. To see her relax and feel calm was worth it all. To know that she now feels hope that she can participate in her healing process makes my heart expand. To see her father feel supported as well is a gift.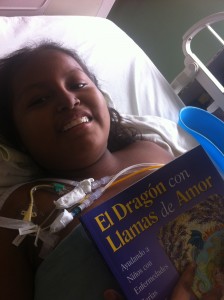 Thanks to Perla Jimenez and Sandra Orosoy for this donation that allowed me to give Serena The Dragon with Flames of Love – Tapping for Kids book.
The holidays are upon us. Not only does it create the desire to give to our loved ones, but also to those who are in dire need over the holidays, like sick children in a hospital.
I see many gifts of toys and candy given to children in the hospital over the holidays. It is a beautiful gesture and the kids love the toys (for a while). Then they go back to getting very little the rest of the year, feeling unsatisfied, or even go back to focusing on their illness.
My proposal is simple. Let's give them something more, something that will last, something that will provide them with emotional relief, something that will empower them to make wiser decisions and even have a vision of the future.
EFT Tapping does that. It helps reduce stress hormones, which in turn helps release fear and trauma. Once calm it is easier to envision one's recovery and move toward it.
Giving the gift of "The Dragon with Flames of Love" is a way to provide relief and emotional support that will last and last.
Be a part of the growing community helping children around the world.
Namaste
Deborah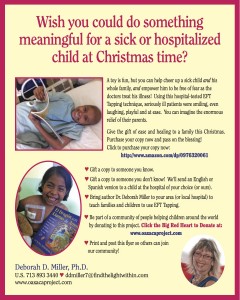 I've been so blessed as to receive donations in order to give children with cancer their very own copy of The Dragon with Flames of Love.
Jairo said, "When I read the book, I feel tranquil and at peace."
Javier jumped up and down when we got out the book to show other children the image of him in the story, Slow Turtle and Fast Cheetah. He said I love the Cheetah because he makes me feel strong.
Enjoy the pics! Blessings to all who have already donated a book. Blessings to those of you who will donate by clicking the big read heart on the right of this page.
Click here to see all of the photos of the Children with The Dragon with Flames of Love
Here's a brief interview of me talking about Tapping and children with cancer. It's in Spanish though.
Find out how our body talks to you, how to listen to it, and Tap along (using EFT) to help your body relax.
Sandra Concar and Peggy Mangan from Surviving the Diagnosis (www.survivingthediagnosis.com) invited me to share about my experiences with EFT and taking care of yourself. We discussed how the body is constantly giving us signals that can help us understand what our body needs. Yet most of us ignore those signals. I shared how we can utilize those signals to help us take better care of our bodies and ourselves.
I led everyone through a Tapping Session about listening to your body's signals.
Come tap along to hear what your body is telling you.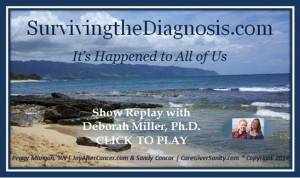 Scroll half way to the bottom of the page to get to the icon that allows you to hear the show.
Hi I'm so very excited because of donations, I could give my book on EFT for children with cancer, The Dragon with Flames of Love to Mia and Javier. I think their faces, say it all.
Mia is a dynamo. She uses Tapping along with her mother to reduce stress, get rid of a sore tummy and even to fall asleep better.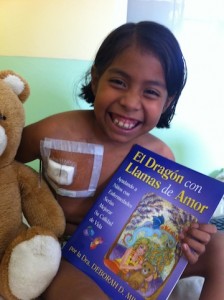 Javier is one of the stars of the book. His story is called "Slow Turtle and Fast Cheetah". May he be healthy for years to come.
Please consider donating so that I can give more books to more children in need. Or donate a book to a child who is in need of emotional support. Click the Big Red Heart on the right of this page to help more children feel empowered.