When one is ill it is so easy to feel depressed or lack the energy and enthusiasm to do what is needed to get better. Your body is tired or aches. Your mind is worried or even terrified. Yet, this is exactly the time to be persistent in self-care – both emotionally and physically.
Let me share a real-life story about Gilda. She is an amazing example of why persistence pays off. I'm so extremely proud of her and delighted with her enthusiasm for life even after all that she has experienced.
Gilda's Story
When Gilda was 10 years old she was diagnosed with an osteosarcoma – bone cancer. She was afraid all of the time, even of things that hadn't even happened or wouldn't even happen.
Gilda and I did a lot of Tapping together to alleviate those fears. You can read more about what Tapping is on my website Emotional Freedom Techniques (EFT Tapping)
Gilda even stars in my book, "The Dragon with Flames of Love" in the story "Balloons Balloons Balloons" where we used tapping and the image of balloons to release those fears. Boy, did she release those fears.
Life doesn't have just one fear, so when new fears or challenges came up, we tapped together again. We made tapping fun, playful and easy for her. By making tapping fun, it helped Gilda remember to do the tapping.
As she released the fears she took steps toward choosing to live. She continued her treatments. She challenged herself to walk with her prosthetic leg, an internal titanium post that replaced her own leg bone.
I remember her getting knee high hot pink tennis shoes. She loved them. Even with the hot pink tennis shoes she was afraid to really step forward until we tapped away her fears. Then you should have seen her go. She would walk around so proudly. In fact, she would practically run as she felt the joy of being able to walk again.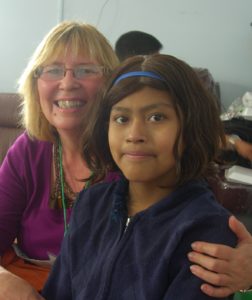 Gilda's Persistence
That prosthetic implant helped her for a couple of years and she thought that she was set until she fell and injured herself. She was 14 at the time. Unfortunately, the cancer came back and she lost her left leg from the hip down. Instead of despairing and giving up, she decided to live. She did Tapping again to release her new fears.
In addition, I taught her how to tap on her own at home. It is an important step in self-care when the person who is ill actually does the emotional release regularly. Gilda became responsible for her emotional state of being that in turn affected her physical being.
When she got overwhelmed and felt she couldn't do the tapping alone, I had her tap while she invited her "Spiritual Healer" (her description of God) to help her. She was tapping for herself, and she didn't feel like she had to do it all alone because her spiritual healer supported her and helped her heal. That helped her listen more carefully to her body's needs while feeling supported and cared for as she took care of herself.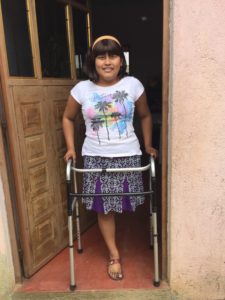 Even after losing her left leg, this spirited young woman was determined to live. She continued to have a positive attitude and the determination to survive. She told me with such conviction that she wants to live, to go to school and to walk again. She did Tapping, persistently.
On Aug 25, 2017, I visited with Gilda in her home. She proudly came walking towards me with her new prosthetic leg that she had received 2 weeks beforehand. She'd waited 1.5 years to receive the prosthetic leg because of lack of funds to purchase it.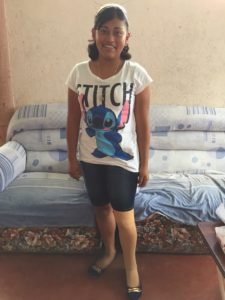 As we talked, she told me she is going to school. She is playing wheelchair basketball 3x a week. She raced in 2 wheelchair races and won 1st and 3rd prize.
Gilda's Goals
She wants to
finish High School.
study architecture.
and build ecological homes.
You can see her enthusiasm for life, her determination and continued desire to live when you look at her. Watch her walk with her new prosthetic leg.
Gilda Inspires Others
Gilda helped another young girl who lost her leg above the knee, who was depressed and didn't want to go out because people would "look" at her. She shared her story of how she was also so afraid, how she used Tapping to release those fears and build up her faith in herself. By sharing her story, this other girl now is going out and feels she cannot worry about how people will look at her as different. What a gift Gilda has given this young woman.
Gilda still uses EFT today. She uses it mostly when she is having "problems." We discussed how she could use tapping daily to help her body release stress in order to help her immune system stay strong. I know she will.
She touches my heart and soul with her inner beauty and determination.
She is a testament to why persistence pays off. I hope she inspires you to be persistent too.
Why Tapping is Good for You?
It helps reduce stress hormones like cortisol, which reduce inflammation in the body and reduce the stress on your immune system.
By having a stronger immune system, your body has improved healing processes.
Tapping helps you reduce the fears, anxieties, and traumas so that you can take the steps needed in the healing process.
It clears out old unhealthy mental and emotional patterns.
Tapping allows you to feel calm, peaceful and open to new possibilities.
Tapping helps you instill new healthy, loving beliefs about yourself and your body.
Need Help with Tapping?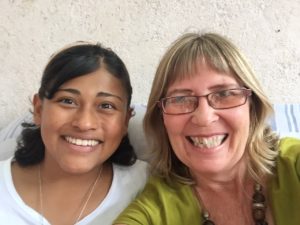 Blessings and love to Gilda!! She is a angel on earth.